TEAM GAME CHANGE STYLES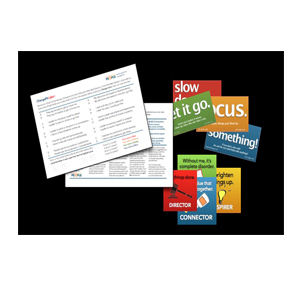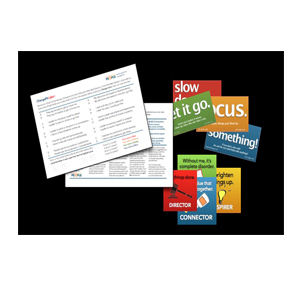 TEAM GAME CHANGE STYLES
A SET OF 25 DIY CHANGE STYLES ASSESSMENTS
This popular 'behavioral styles' evaluation has been condensed to a 5-minute quiz and self-typing into four familiar personality categories: Directors, Organizers, Connectors and Inspirers. What happens next is what's interesting and useful about this exercise.
Team members affix the appropriate 'type' sticker to themselves and are given a two-sided interaction card. Then they divide into groups with their own style for prepping and feedback. After that, your team is taken through conversations and exercises between styles that will:
* increase empathy and understanding of different types
* pave the way for better and healthier communication
* make difficult conversations much easier
* reduce stress and resentment in the workplace.
Your package includes:
* 25 Change Styles cards
* 10 each of stickers and cards
* Set of instructions and exercises